Safety United :: Logo Redesign
graphic design :: visual identity :: branding :: logo redesign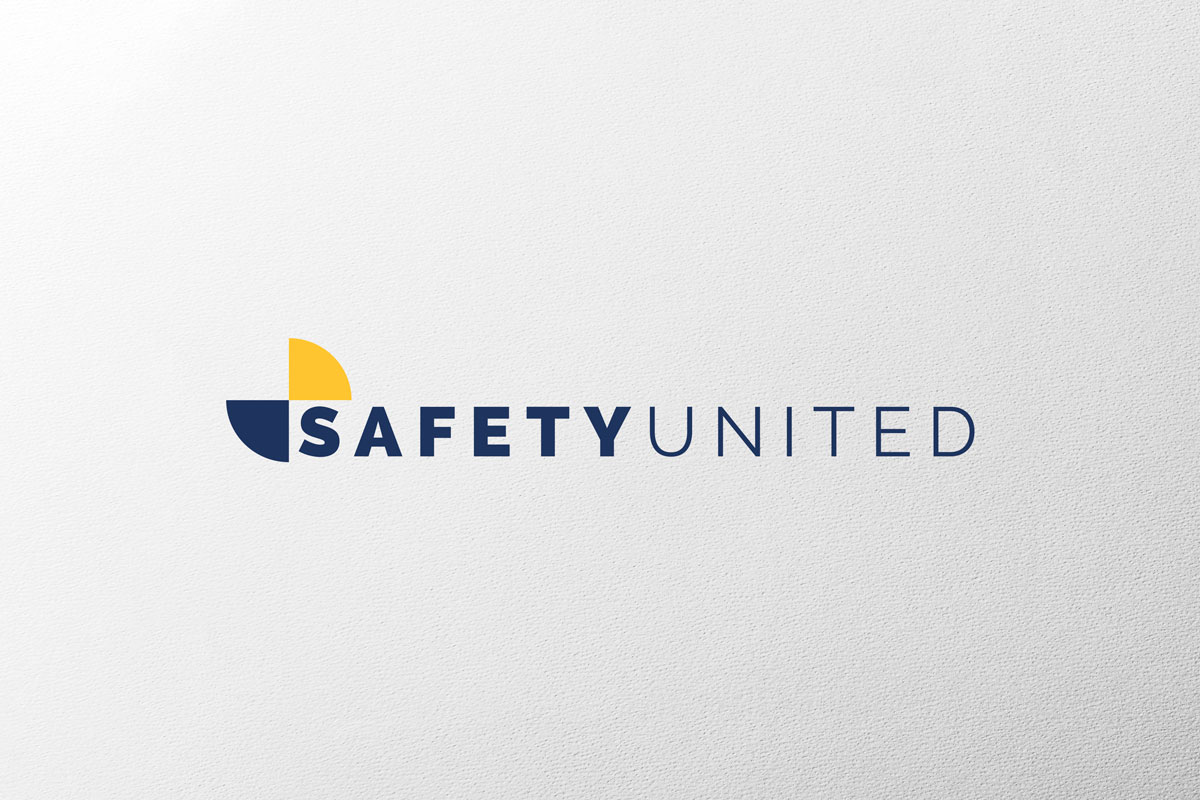 Redesign of the logo for the company Safety United from the USA. We were asked to redesign the logo for Safety United, which we gladly did. This striking navy blue logo, with a small yellow detail for contrast, is the perfect representation for this company that teaches businesses and professionals about security practices and procedures.
Do you like this logo? Then take a look at our other works from the Logo category.
WHAT DO YOU NEED TO KNOW ABOUT LOGO DESIGN?
You've decided you need a logo. Whether it's a brand new logo or a redesign of an existing one, here are some things you need to know:
1. WHAT TYPE OF LOGO DO YOU WANT?
There are several types of logos. The logo can be text only (Google), monogram (LG), mascot (KFC), emblem (Stella Artois), pictograms (Apple), abstract (Nike) or combined: image and icon (Amazon). Some clients already have an idea of what type of logo they want, this is especially true with logo redesign, but if you don't have a clear picture of your future logo – don't worry. You can arrange with the designer that the design proposals contain more than one style to get a better impression of what will suit you. Of course, the designer will not be able to make all variations, but a good designer will know exactly which types are suitable for the activity you are engaged in and will give you their suggestions accordingly.
2. CHOOSING COLORS AND TYPOGRAPHY (TYPES OF FONTS)
Many companies already have their own distinctive colors and fonts that they use. In this case, the data is forwarded to the designer and the logo is created according to existing standards. Some companies don't already have certain graphic/design standards, but they know roughly what colors and what font they want. In that case, it's a good idea to send the designer some examples that you like. You can collect images from the Internet and send them as a reference. If you don't have any ideas about colors and typography, don't worry. Designers are experts in making such decisions for you. Along with the suggestions, you will also receive an explanation of why a particular color and font was chosen. In that way will be easier for you to make a decision about the color system that will represent your company.
3. MEETING THE DESIGNER
You need a logo and you want to work with us and you are wondering what to do now? Send us an inquiry via our contact form, and we will answer you as soon as possible. If you want, you can immediately send us some of the information listed above. Such as the company name, the type of logo you want, what the company does, and images of the logo you like as a reference. After we get to know your needs in more detail, we will send you a financial structure for the service you are looking for. If you choose to work with us, we will contact you if we need additional information. The deadline to finish the project is usually around 5 working days, but this can vary depending on the volume of work at the time of sending the inquiry. We will give you the exact deadline during the agreement.
4. FINISHED PROPOSALS
After completing the design of the logo, the designer will send you a presentation of the proposal. You can choose as many proposals as you want in the offer. The standard is three or five, and if you want more, please mention it when you contact us, so that we can adjust the offer accordingly. After the client studies the proposals sent and chooses the one that suits him best, the designer will make any additional changes, such as changing the color or size. When the work is finished, we will send versions of the logo in vector (ai, eps, pdf) and raster (jpg, png) form so that you have all the versions needed for future applications of the logo (print, web), including a defined color system and characteristic typography.
You can view our other works in the portfolio.
Do you want to make a logo with us? Contact us at the email address or via the contact form. We are waiting for you!
If you want to know more about graphic design, feel free to take a look at our blog, where you will find many interesting articles, one of which is about logo.
Zale Design Studio