LOGOTYPE – WHAT EXACTLY IS A LOGO AND WHERE DOES IT COME FROM?
Little history…
What is a logo? By definition, a logotype or abbreviated logo is a symbol of a company, institution or association. The word logo comes from the ancient Greek word logos (word, speech) and the word tupos (sign, imprint).
The use of symbols to denote individual objects and property is a few thousand years old, but the beginning of what we call today the logo (and even the name itself) begins in ancient Greece.
At the time, logos were mostly monograms. At first only one letter ones, later two or more letters intertwined. At that time, they were used by people who were illiterate to indicate their ownership of a particular object, livestock, etc. because in that way the letters could be recognized and not read. Later, monograms adorned coins that often contained the first letters of the cities from which they originated. From then until today, the logo has become an inevitable form of marking ownership, quality, value, place, etc. over a service, product or company.
Why is a logo important?
We've all heard the famous proverb that a picture is worth a thousand words. This is also true when it comes to logos. Logo design needs to convey a lot to the audience in a very small size and time: what you do, what is the personality of the company (yes, companies have a personality and like people can be serious, cheerful, playful, responsible, etc.) and create trust and connection with the brand.
The logo is not your brand. Your brand is the way a product, company, service or person is perceived (from expertise, experience, quality, reputation, recognition, etc.). Branding are the steps you will take to build your brand. And brand identity is a tangible expression of your brand (name, logo, typography, colors, etc.). We will talk more about all this in the following blogs, for now we will only focus on the logo.
Here are some of the reasons why logos are important:
1. they leave a strong first impression
2. they help in recognizability
3. they set you apart from the competition
There is no need to write specifically about the importance of first impressions. We know it matters, and we know it can have a big impact on whether a potential client chooses you or one of your competitors. We also know that one of the first things a potential client will see about your business is the "look" or logo. In today's sea of products and services and their design, having a logo that follows and reflects you and separates you from the crowd is crucial. A logo is a sign of ownership of a particular service or product. It should send a clear picture of who you are and be a reflection of the expertise and quality of what you offer. It is important to note that customers usually spend less than 15 seconds deciding whether to buy a product. In that time, attention must be drawn. Logos with images are usually noticed and remembered faster than text logos, because the human brain processes images faster than words. This is definitely something to keep in mind when choosing a logo.
Over time, customers begin to recognize your logo more and more and then:
4. they create loyalty
The goal should not only be to attract new customers, but also to retain existing ones. Building brand loyalty is extremely important if you want regular customers who will keep coming back. As the brand grows, the logo will become more and more familiar and recognizable to them. The logo itself will begin to represent everything good about your business to the client: quality, satisfaction with the service or product, and will evoke a feeling of trust and loyalty to the brand. This is one of the reasons why it is important that the logo is simple and not too complicated and that it is consistent with what you represent. You want customers to be able to easily identify with him.
The process of making a logo
Choosing a designer or studio for graphic design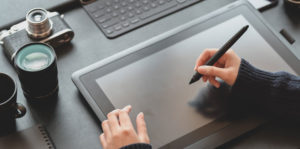 Graphic design encompasses a lot. Everything can be designed, from leaflets and posters, catalogs and brochures, to mobile applications and websites, and so on, as well as a logo, and a visual identity (which contains the logo). Not every designer specializes in every aspect of design. The first step is, as in everything, to find someone who is an expert in logo design. Of course, designers, like many other artists, are prone to specialize in certain styles, while others may work in more than one. These are all essential first things to consider when choosing a designer. If you are not sure which style you want, it is better to contact a graphic studio or marketing agency where more than one designer works, so you will have a wider range of offers available. If you know what style you want, then you can find a designer who specializes in exactly what you want by browsing hers or his portfolio.
More about different styles of logos in our blog post.
Initial conversation
Once you have chosen a designer or design studio, the first contact follows. Here we often meet clients who do not know exactly what they need to communicate and what information designers need. Do not worry. If you don't know, a simple query like "We need a logo design for a company. Can you help us? "Is enough. Each designer will then ask a series of questions that are important to see if the job matches their abilities and those that are important for pricing.
What is important to every designer is: do you already have an existing logo that you just want to redesign or is it a new logo? What is the activity of the company and what is its name? Do you have a slogan that will be part of the logo? Do you already have defined or desired company colors? Can you describe a company as you were describing a human with it's characteristics? Who is your target audience?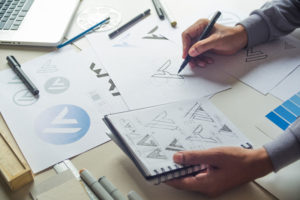 If you have an example of a logo that you like, feel free to send it in (it's a good guide purely in terms of the style you'd like the designer to follow). It's easier for designers when they see roughly what you want and then they can make a logo to your liking. While some clients have clear wishes, some do not and leave all the choices to the designer.
Designers are here to help you, so don't hesitate to express your wishes and vision. Although always keep in mind that some things are not optimal for the logo and that a good designer will always mention it to you, and with that we come to:
Creating a logo
After the financial construction has been agreed upon and the client's needs are known, designer starts making a logo. Every designer and company have their own way of working. Usually, the client is offered several solutions (depending on the agreement) and the client then decides on the one that suits him best. Some companies charge extra for changes to the final design (if you need to change colors, typography, etc.), some don't. This is something that should be kept in mind during the initial agreement and include changes in the financial structure as necessary.
When the final solutions are presented, the designer will explain the meaning of the logo: icons, typography and colors, to present to the client the reasons for certain decisions as to better understand why the designer decided on these choices. Also, before submitting final solutions, you should always research the competition, so as not to inadvertently copy someone's logo or style.
COLORS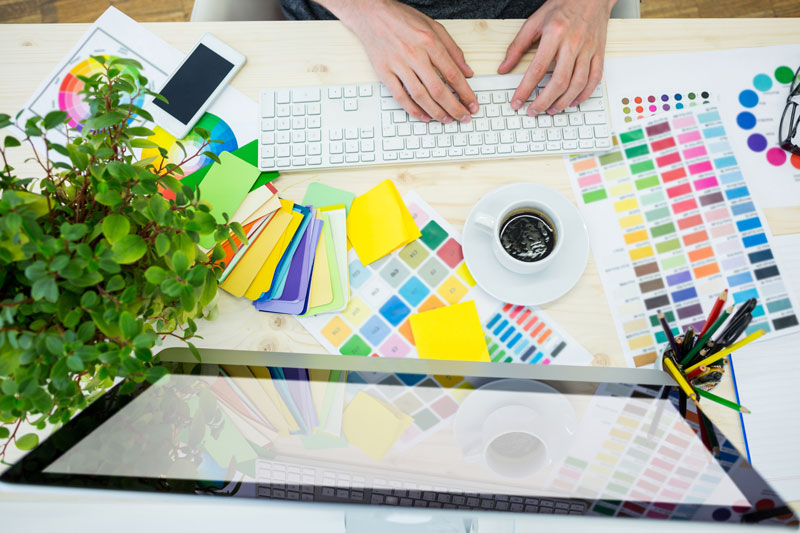 Logo colors depend on the impression you want to leave on customers, e.g. warm colors stimulate communication and appetite while cooler colors represent security, calm and stability. The choice of color will depend on the business of your company and the feeling you want to evoke in potential customers.
Balance is important when choosing a color. You can read somewhere that the color red represents aggression, which is bad if you have, say, a children's playroom, but it is positive if you have a fitness center.
Geometry
Likewise, geometry plays a major role in logo design: horizontal lines represent assertiveness, while vertical lines represent aggressiveness. So the combination of red and vertical line is not for every company or you can soften it by adding a horizontal line and another color. Also, round, soft lines instill confidence while sharp ones can mean self-confidence and security in what the company does.
Tipografija
The same applies to typography as to the above; there are no strict rules and it is important how the typography will go with the choice of colors and icons. As an example, let's take a serif font, which is more serious and old-fashioned, but inspires confidence precisely because of that fact. While the flat font is more modern and has its advantages.
There is no universal formula, it all depends on what you do, how you want to present yourself and what kind of clients you want to attract. What looks bad to type of business may be great to another.
Selecting a logo
After the final solutions are sent and possible changes are made, the client will choose the logo that he thinks best represents their business. Versions of the logo are then sent in vector and raster form so that the client has all the versions needed for future logo applications (print, web).
A common question is why do graphic companies not have prominent logo prices on their website?
The logo falls under the domain of copyrighted works. Like songs, pictures and other works of art, it doesn't matter if someone wants a logo. It is more important how much reach that logo will have, who will use it and in what volume, whether it will be used only nationally or internationally, what the logo will be applied to, whether we should only redesign the logo or come up with a completely new logo. It is not the same to create a logo for a small local cafe or a large corporation. For this reason, most marketing agencies will, after an introductory interview with the client, form a price according to the needs of each individual client. Logo prices can range from a few hundred to a many thousands of euros.
We are not trying to hide prices and be secretive. Just the opposite. We are trying to be honest and form fair prices for each individual client. After the first contact and when we have a better idea of the client's needs, we send an offer made exclusively for that client.
We hope that we have brought the relationship between the designer and the client a little closer to you so that you have a clearer picture of what to expect in such a job.
If you have comments on the article, or want us to explain some things further in future blogs, feel free to contact us by email or via a web form.
Related posts