The Compounding Center :: Poster & flyer
grafički dizajn :: dizajn postera
Za tvrtku iz SAD-a, The Compounding Center, smo dizajnirali letke kojima su predstavljali svoje usluge ili promovirali akcije. Radi se o farmaceutskoj tvrtki koja je specijalizirana za izradu i distribuciju prilagođenih lijekova i medicinske opreme svojim klijentima.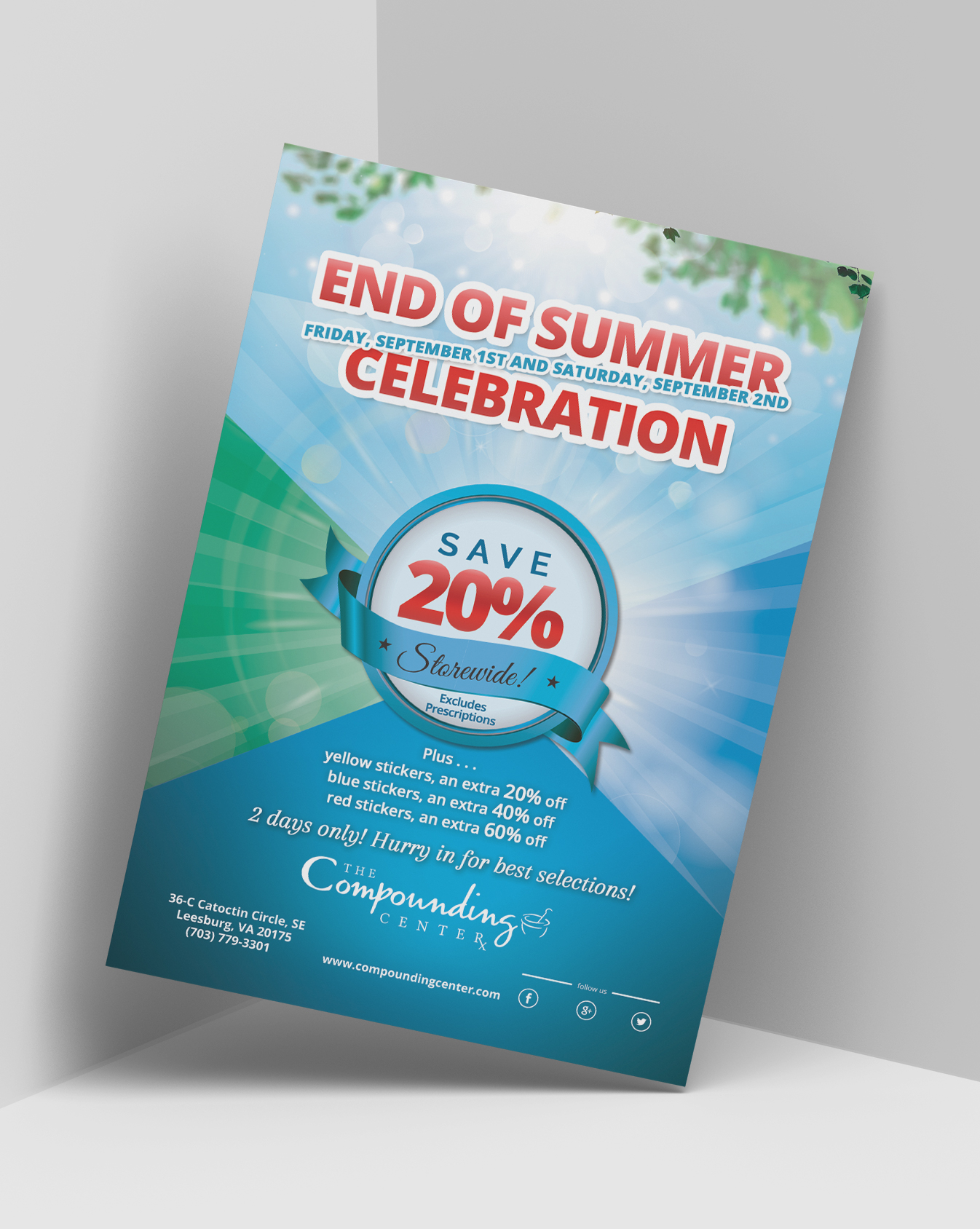 Na što je bitno paziti kod dizajna letka?
Kao i kod svake druge vrste dizajna, uvijek imajte na umu za koga stvarate taj letak, tko vam je publika, koga želite privući. Nije jednako kreirati letak za zabavni park, dućan odjećom ili tvrtku koja se bavi financijama.
Dok ćemo za zabavni park izabrati vesele jarke boje, mekane fontove, više teksta te fotografija, za korporativni dizajn je bolje da je dizajn jednostavan kako bi ostavio profesionalniji i ozbiljniji dojam.
Ako upotrebljavate fotografije, pobrinite se da su to visokokvalitetne fotografije kako cjelokupni dizajn ne bi bio narušen odabirom slike u niskoj rezoluciji, nezanimljivog sadržaja ili neprikladne tematike.
Ako ne upotrebljavate fotografije, već će letak biti napravljen od teksta te dizajn elemenata, držite se pravila da ne koristite previše vrsta fontova i veličina. Letci su, najčešće, malog formata te previše fontova i veličina istih može izgledati natrpano, neorganizirano i neprofesionalno. Također, upotrebljavajte fontove koje je lako čitati. Letci se čitaju u brzini i nemate mnogo vremena privući pažnju na sadržaj.
Letak je napravljen da u kratkom vremenu dostavi bitnu informaciju, da privuče pažnju te da generira promet. Ako se držite osnovnih pravila dizajna, vaš letak će zasigurno ispuniti svoju svrhu.
Pogledajte i naše ostale radove iz kategorije Print.
Ukoliko Vam treba dizajn letka, javite nam se putem obrasca ili nam pošaljite mail.
Naše radove iz drugih kategorija pogledajte u našem portfoliju.
Želite znati više o dizajnu, svratite na naš blog gdje Vas čekaju članci o raznim dizajn temama.
Zale Dizajn Studio