Cadieux Paris :: Catalog and posters
graphic design :: catalog design
Cadieux Paris a company that designs high-quality and modern clothing. They approached us because they needed a catalog design for their new collection, a job we were happy to do. The collection was full of bright colors and interesting patterns, so it was not difficult to organize a catalog for such beautifully designed items. Minimal graphic processing, so that clothes and professional photos would stand out, was our choice for this job.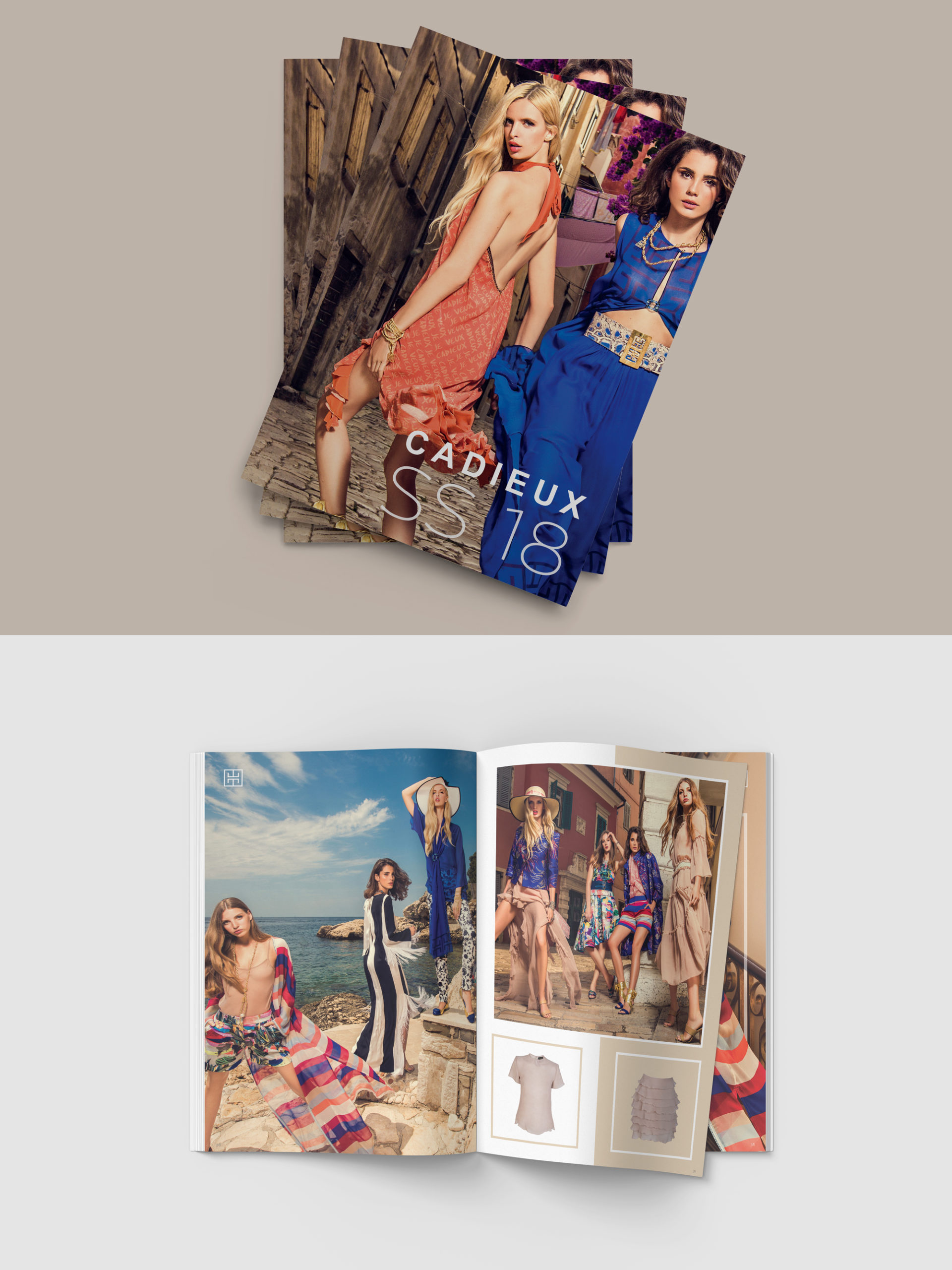 What should you pay attention to when designing a catalog?
Not every catalog design is appropriate for every type of service or product. The design should follow the industry it represents and the customers it wants to attract. With the catalog, the size (format), the number of pages, and the layout are first decided. After that, the front and back pages are designed.
As with poster design, the front page of the catalog should not be cluttered with texts and design elements. The rule should be followed that only the most important information such as the name of the company, the name of the catalog, i.e. what it represents/sells, and possibly a photo or illustration should be on the front page. All contact information is placed on the back page of the catalog which is usually very simple. The choice of color and fonts depends solely on the activity the company is engaged in. For corporate catalogs, you should stick to colors and fonts that give a more professional and serious impression, but if, for example, you sell toys, the catalog can be more playful, colorful, and the fonts can have softer shapes.
When photos are used in the catalog, they must be of high quality and professionally done. If you use low-resolution images, the overall impression of the catalog will be diminished. Therefore it is better before deciding to create a catalog, to keep in mind that quality photos of the products must also be created for it and have ready-made (preferably proofread) texts prepared. It is with the Cadieux catalog that you can see the importance of quality photos.
Catalog design is a long-term process, especially when it comes to catalogs that have 100 or more pages. Therefore, prepare all the materials for the designer before starting work, so that the process be shorter and easier.
Browse the entire Cadieux Paris catalog at the following link:
See our other works from the Print category.
For the design of your catalog, contact us via the contact form or send us an email.
For more information about graphic design, you can see our blog, and for our other works, visit our portfolio.
Zale Design Studio