Party Pops :: Vehicle Wrap Design
graphic design :: vehicle wrap design
We designed this cheerful vehicle wrap for the company Party Pops from Zagreb, Croatia. If you have ever organized a party in Zagreb or Croatia, you have probably visited the Party Pops website. On their website and in the stores, you can find everything you need for a party. Whether it's birthday parties, masquerade parties or weddings.
The Party Pops visual is a cheerful bright pink logo that features a balloon icon as its colorful representative. We separated that part of the logo and took it as a guiding thread for the rest of the design. Although the logo takes center stage in the vehicle's design, we wanted to add more color by using balloons in other colors and sizes. This way the design does not look rigid. Balloons give an additional dimension and fullness to the overall design, resulting in a cheerful and colorful design that will surely be noticed on the roads of Croatia.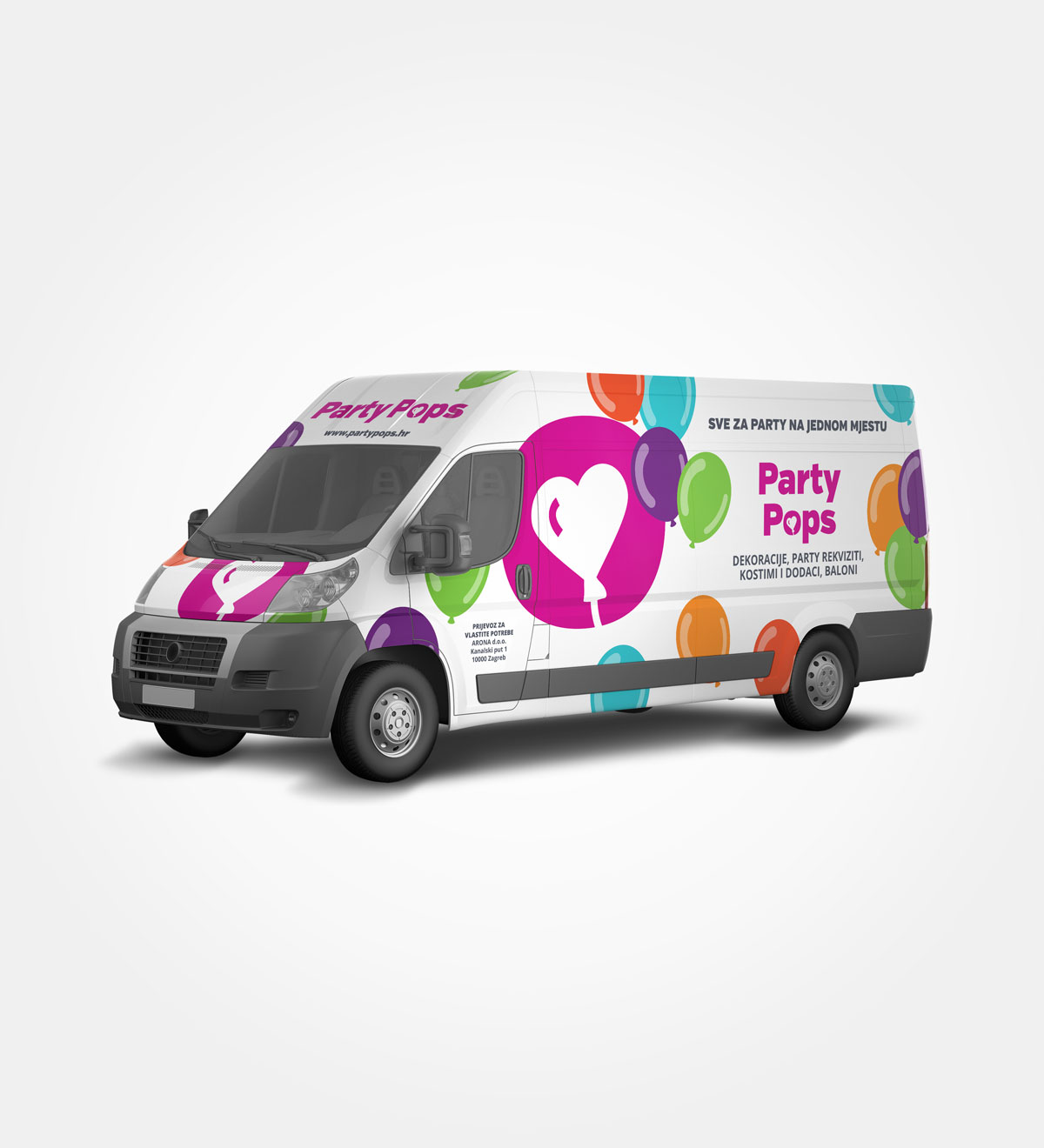 Why is vehicle wrap design important and what should you pay attention to?
Every day we spend hours outdoors, either as road users or as pedestrians. Numerous vehicles pass us. Your vehicle ad can be seen by hundreds of people every day. This is one of the cheapest and most effective forms of advertising.
When designing vehicles, especially larger ones like vans and trucks, you want to create a design that will draw attention but still convey a message about your company, product or service. Although the design of the vehicle is traditionally decorated with a strong design: the use of bright colors, illustrations and graphic elements, care must be taken not to distract attention from important information: such as the name of the company, the service offered and other important information. We usually see the vehicle in motion, so the design only has a few seconds to attract the audience's attention. This is why strong color palettes, illustrations and images are used for vehicle design. Once the design catches the audience's attention, they only have a short time to read the message. Do not cram vehicles with too much text. Reduce your message to the most basic information and a good designer will help you convey the rest of the message through the design element.
If you need vehicle wrap design, feel free to contact us via the form or send us an email.
For more of our designs, visit our portfolio, and for interesting design articles, visit our blog.
Zale Design Studio