Hyper :: Packaging Design
graphic design :: branding :: label design :: packaging design
Hyper is an energy drink that provides the necessary energy for all those who are looking for a quick and effective way to stay active and awake throughout the day. This drink is made with a special formula that combines caffeine, taurine and other stimulants to improve endurance and focus. In addition, Hyper is also designed with an emphasis on taste and refreshing effect, making it the perfect choice for all those who want to enjoy a delicious drink that gives them an extra boost of energy.
The packaging design for Hyper energy drink is characterized by the use of vivid colors that attract attention. Bright tones of yellow and red in combination with darker tones of blue and black create an effective and attractive appearance of the packaging. There are also attractive graphic elements on the packaging and all this together makes Hyper stand out on store shelves and attract the attention of customers.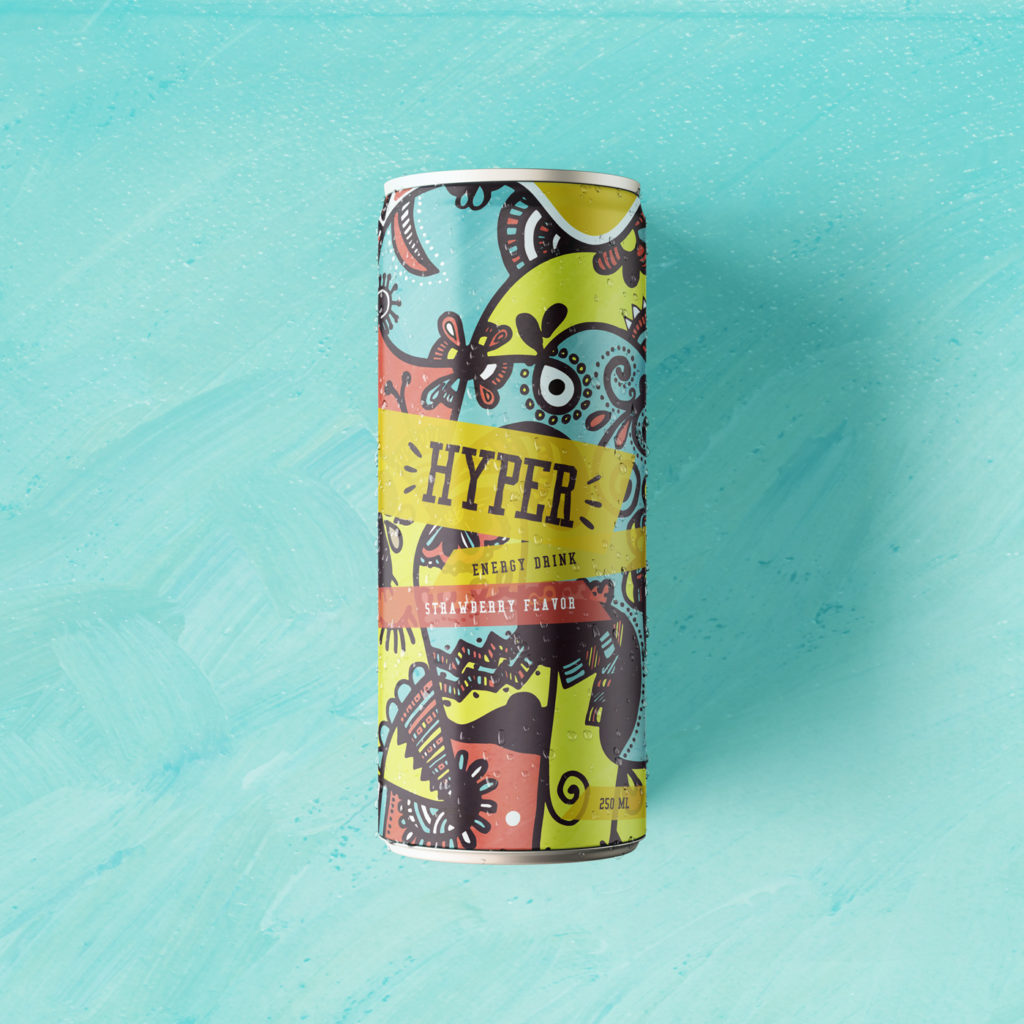 Beverage packaging design
Beverage design plays a key role in attracting customers and creating a recognizable brand.
Tips for good design:
Choose the right type of packaging – Cans are a popular option for drinks due to their convenience and durability. However, there are other options such as glass bottles or plastic bottles that can be used for different types of drinks. It is important to consider the pros and cons of each option before choosing.
Think about functionality – Packaging design should be functional and make it easier for customers to use the product. It is important to consider the size, shape and practicality of the packaging.
Choose the right material – The choice of material is an important factor in packaging design because it affects the quality and durability of the product. In addition, the packaging material can also have an impact on the environment, so it is important to choose environmentally friendly options.
Create an attractive design – When it comes to packaging design, it's important to make sure it looks as attractive as possible to attract customers. Choose colors and graphics that are consistent with your brand and target audience.
Include important information – The packaging should include the name of the product, ingredients, nutritional values and other important information that could be of interest to customers. Including this information helps build customer trust and loyalty.
As you can see, beverage packaging design is an important factor in a successful business. Choosing the right type of packaging, materials and attractive design can significantly affect the sales and success of the product. Therefore, invest time and effort in coming up with a packaging design to attract attention and meet the needs of your customers.
You can view our other works in the portfolio.
Need a label or packaging design? Contact us at the email address or via the contact form.
If you want to know more about graphic design, feel free to take a look at our blog, where you will find many interesting articles, some of which are also about labels and packaging.