Grizli bar :: Logo and Naming
graphic design :: visual identity :: branding :: logo creation :: copywriting :: company naming :: motion graphics design :: animation
About the Grizli name and logo
Logo design is fun, especially for a great client. A client from Zagreb, Croatia, decided to open a fast food restaurant and contacted us to help him come up with a name for the restaurant and to create a logo for it.
Naming of the Company
Naming is not a very sought out service, mostly because clients want to choose the name themselves. This is understandable since a name is considered something personal and important. However, it is also useful to forward this work to a company that will make sure that the name matches certain criteria. For example, care should be taken to avoid names that are difficult to pronounce or write. Such names are difficult to remember, and in today's Internet age, when we search for companies by name on search engines and social networks, we want a name that is easy to remember and easy to spell. If you use foreign laguages for names, always check with a native speaker or proofreader that you are using the name correctly, if you are not fluent in the language yourself.
Also, don't limit your activity by name. What does that mean? In the company name itself, try to avoid using the type of work you do. In the future, you may expand your business or want to completely refocus your business, so it's better to stick with names that are more neutral. However, this does not mean that the name should not have meaning. The best names are short, clear, creative, but still have meaning.
How we came up with the name "Grizli"
A good example of this is the name "Grizli". It was not our plan to name the restaurant after a bear, but that name served as a link to the word "griz" (bite in Croatian) as an association with food and eating, and the need for the name not to be literal, but to still have a meaning, in this case hidden. That's how we came up with the name "Grizli" and along the way got the mascot of the restaurant. 🙂
Verify the Name
After choosing a name, it is very important to check if that name has already been used. Go through court registries, comb through all social networks and see if domains with that name are available. You don't want your website to have a name that is too long or too complicated, because the name itself was not available. Research everything well. If you hire a company, the company will do that part of the work, of course for you.
Since the client had already chosen the colors used to decorate the restaurant, we wanted the logo not to jump out, but to follow the existing colors, which we only modified to make them look more harmonious on the logo. After the name "Grizli" was chosen, we knew that the logo should contain the silhouette of a bear, but also a hidden meaning (bite). So we bit off a part of the icon and got this unique logo.
Do you like this logo? See our other works from the Logo category.
WHAT DO YOU NEED TO KNOW ABOUT LOGO DESIGN?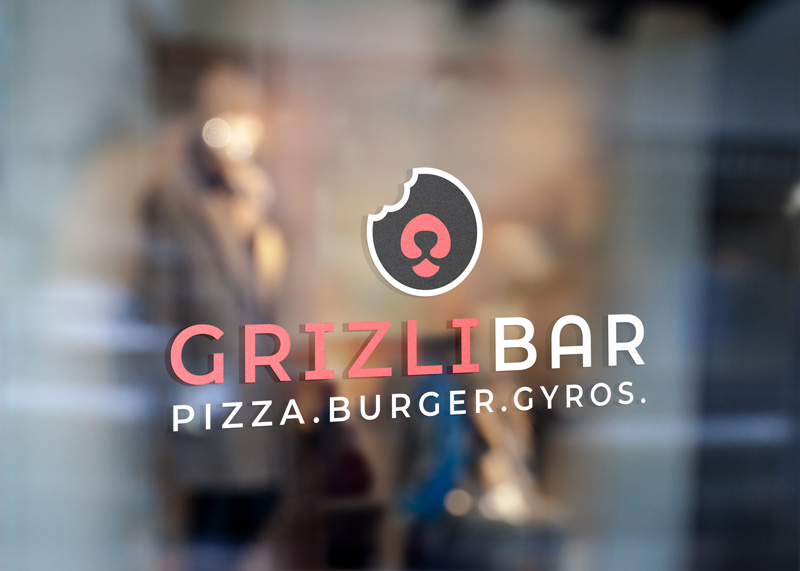 1. Find the right type of logo for your company
This will vary depending on the industry you're in, as well as the overall aesthetic you want to convey. For example, a simple monogram might be appropriate for a luxury brand, while a more complex and detailed logo would be more appropriate for a technology company.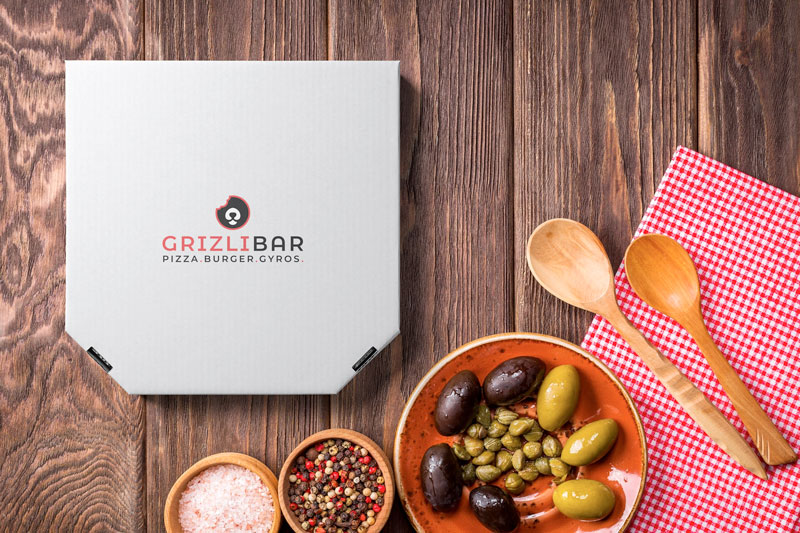 Visual Identity :: Grizli Bar
2. Choose the appropriate typography
This is an important step in creating a logo that is visually appealing and readable. Make sure you choose a font that is the right size and type for your company and brand and complements the overall look of the logo.
Logo design :: Grizli bar
3. Why make it complicated, when simple is better
Ultimately, the logo should be easy to understand and recognizable. Avoid using too many colors or complex patterns as this can make the logo look confusing. Stick to a few simple elements that represent the company or brand in a clear and precise way.
You can view our other works in the portfolio.
Do you want to make a logo with us? Contact us at the email address or via the contact form.
If you want to know more about graphic design, feel free to take a look at our blog, where you will find many interesting articles, many of which are about logos.
Zale Design Studio