Grizli bar :: Logo and Naming
graphic design :: visual identity :: branding :: logo creation :: copywriting :: company naming :: motion graphics design :: animation
About the Grizli name and logo
A client from Zagreb decided to open a fast food restaurant and contacted us to help him come up with a name for the restaurant and to design logo for it.
Naming the company
Naming is not a very sought out service, mostly because clients want to choose the name themselves. This is understandable since a name is considered something personal and important. However, it is also useful to forward this work to a company that will make sure that the name matches certain criteria. For example, care should be taken to avoid names that are difficult to pronounce or write. Such names are difficult to remember, and in today's Internet age, when we search for companies by name on search engines and social networks, we want a name that is easy to remember and easy to spell. If you use foreign languages for names, always check with a native speaker or proofreader that you are using the name correctly, if you are not fluent in the language yourself.
Also, don't limit your activity by name. What does that mean? In the company name itself, try to avoid using the type of work you do. In the future, you may expand your business or want to completely refocus your business, so it's better to stick with names that are more neutral. However, this does not mean that the name should not have meaning. The best names are short, clear, creative, but still have meaning.
How we came up with the name "Grizli"
A good example of this is the name "Grizli". It was not our plan to name the restaurant after a bear, but that name served as a link to the word "griz" (bite in Croatian) as an association with food and eating, and the need for the name not to be literal, but to still have a meaning, in this case hidden. That's how we came up with the name "Grizli" and along the way got the mascot of the restaurant. 🙂
Verify the name
After choosing a name, it is very important to check if that name has already been used. Go through court registries, comb through all social networks and see if domains with that name are available. You don't want your website to have a name that's too long or too complicated, because the name itself wasn't available. Research everything well. If you hire a company, the company will do that part of the job, for you of course.
Since the client had already chosen the colors used to decorate the restaurant, we wanted the logo not to jump out, but to follow the existing colors, which we only modified to make them look more harmonious on the logo. After the name "Grizli" was chosen, we knew that the logo should contain the silhouette of a bear, but also a hidden meaning (bite). So we bit off a part of the icon and got this unique logo.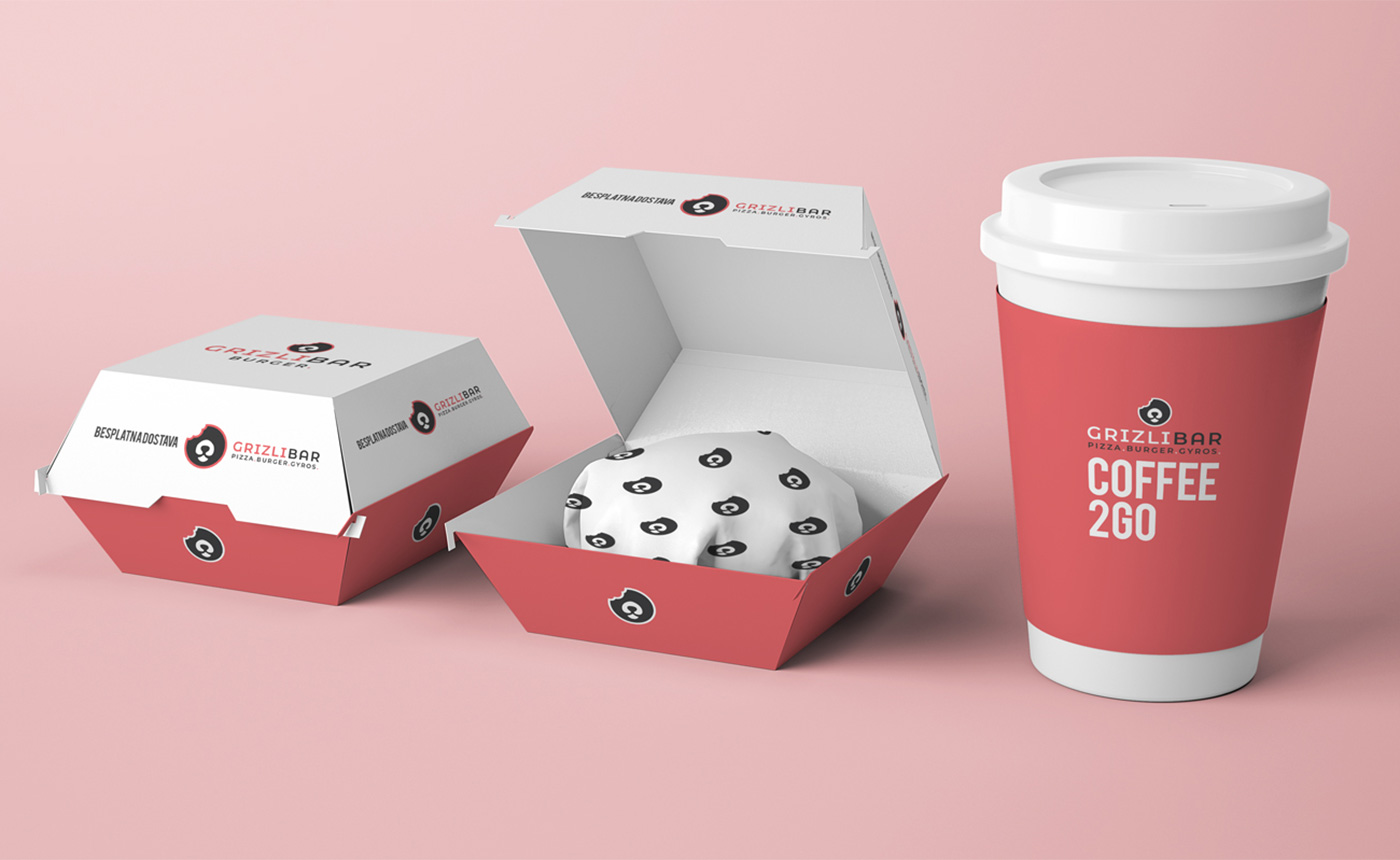 Do you like this logo? See our other works from the Logo category.
Logo design for restaurants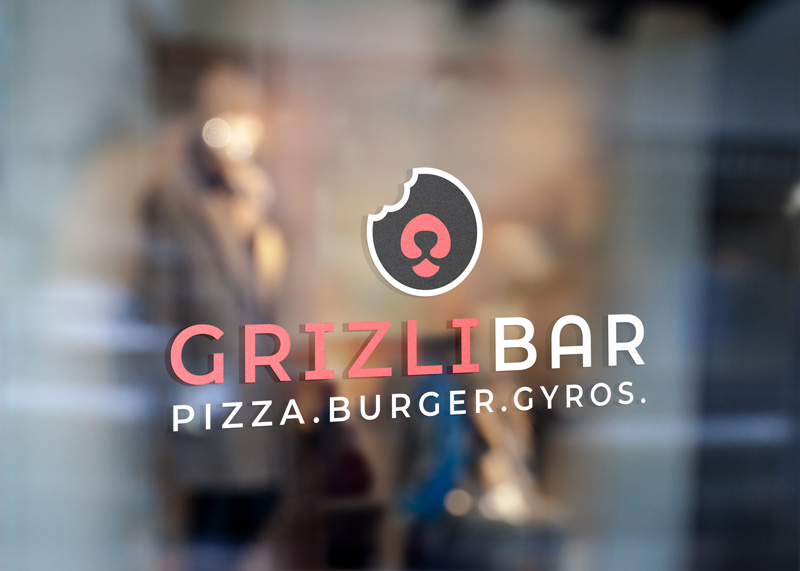 Before you start creating and designing a logo for a restaurant, you should ask yourself some questions. What kind of food does the restaurant sell? What kind of atmosphere does the restaurant have? Is it luxurious, casual (like a fast food restaurant) or traditional? What is the target market? At which location (or several locations) is the restaurant located?
Think about what would be appropriate for the restaurant and what would fit the overall brand. Logo should be simple and easy to remember, yet convey the message and "vibe" of the restaurant.
What are some of the common mistakes people make when designing a restaurant logo?
One common mistake people make when designing a restaurant logo is not doing their research. As with real estate rule: location, location, location. Design rule is: research, research and research.

It is important to understand the concept of the restaurant and the target market before you start designing the logo. It is also essential to research the competition so that they can avoid copying a similar design. The logo should be creative and original.
Another common mistake is that the logo is not simple enough. A logo should be easy to remember and recognizable, so including too many elements can be counterproductive. Quality over quantity of the design elements.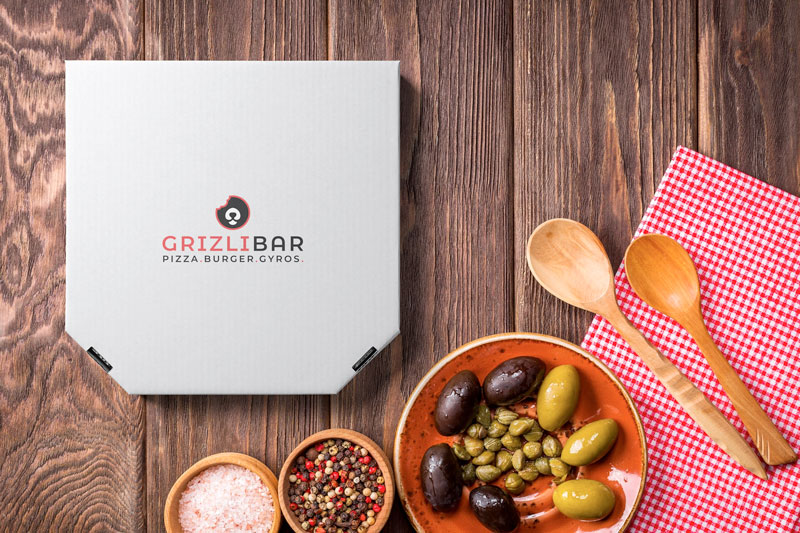 Visual Identity :: Grizli Bar
How often should the restaurant logo be updated?
There is no hard rule as to how often a restaurant should update its logo. It ultimately depends on the needs and goals of the restaurant.
Some factors to consider when deciding whether to update your restaurant logo may include:
Rebranding
As the restaurant grows and develops, it may be time to refresh and modernize the logo. Sometimes the brand expands and new services or products are added. Maybe the restaurant is expanding to new locations and the logo needs to adapt to that change.
Competition
Sometimes there are sudden shifts in the industry. Maybe your competition is changing its look, maybe there are new design trends in the industry. All of these are reasons to regularly monitor trends and adapt to them.
Logo design :: Grizli bar
Changes in the target audience
Sometimes the clientele of the restaurant changes. Suddenly new customers come, old ones leave. Such changes should also be followed with the design and adapted to the new target audience.


Ultimately, the frequency with which you update your restaurant logo should be based on your business goals and brand needs. It's important to consider the potential costs and benefits of updating your logo and carefully plan any changes to ensure they align with your overall marketing and business strategy.
Do you want to make a logo with us? Contact us at the email address or via the contact form.

You can view our other works in the portfolio.
If you want to know more about graphic design, feel free to take a look at our blog, where you will find many interesting articles, many of which are about logos.
Zale Design Studio