Web design for Gospodarski list
graphic design :: website development :: web design :: UI design :: UX design
Creating a website and regularly maintaining the portal is one of the jobs we do for clients from Gospodarski list.
What is Gospodarski list?
Gospodarski list is a Croatian agronomic scientific journal that deals with various topics related to agriculture, animal husbandry, forestry, agro-economics and rural development. The magazine began to be published in 1842. as a newsletter of the Croatian-Slavonic Economic Society in Zagreb under the title "Notice to the member of the Croatian-Slavonic Economic Society", and from 1855 bears its current name.
The goal of the magazine is to promote the various professions of agriculture, as well as to publish scientific papers in the aforementioned fields. Gospodarski list played an important role in the development of agriculture in Croatia and the region, and was the main source of expert information and news for farmers in the past.
Today, Gospodarski list is published as a semi-monthly magazine with a circulation of 30,000 copies and features a wide range of articles on agronomy, animal husbandry, forestry, agro-economics and other topics related to rural development. The magazine also publishes professional and scientific works, book reviews, reports on agricultural events and other contributions in the field of agronomy.
In addition to the magazine Gospodarski list, today it has a popular web portal and a very popular presence on social networks.
For Gospodarski list, we also created a logo for their sub-brand "Kolači".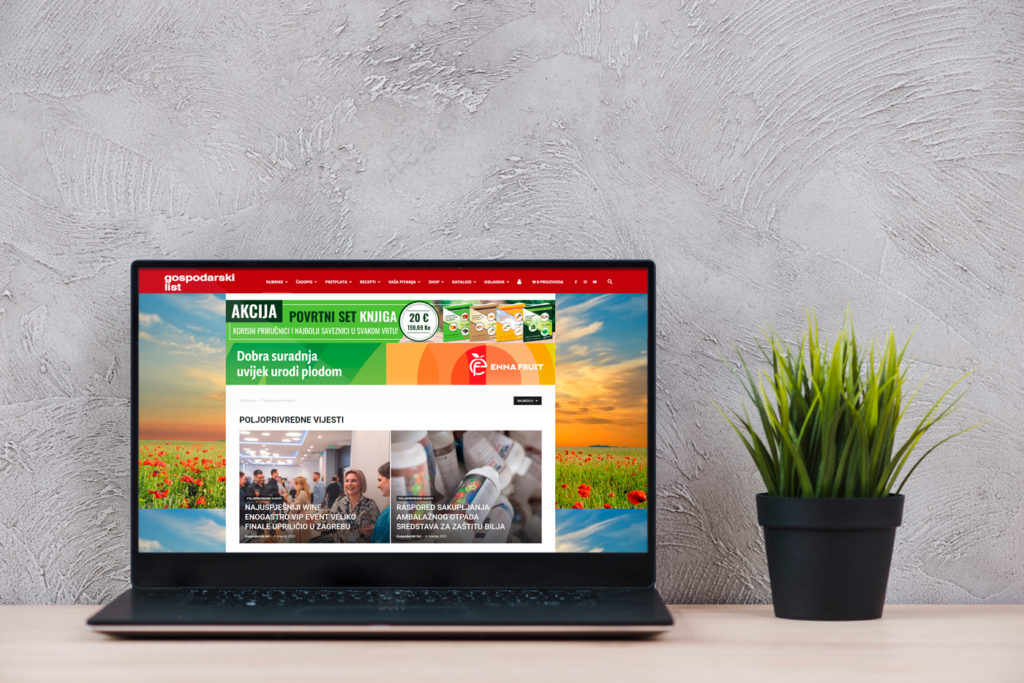 What is the difference between a website and a portal?
A portal differs from a regular website in that a portal is usually a larger and more complex system that provides more functionality for users. For example, Gospodarski list has a web portal that provides various services for its readers and visitors, such as browsing news, searching the database, learning about new technologies in agriculture and much more.
Portal design is very important because it can affect the user experience and attract or repel potential readers. A good portal design should be intuitive, modern, easy to navigate and visually appealing. This means it should be easy to use, with well-organized content, viewable and fast to load.
In the case of Gospodarski list, the design of the portal plays an important role in providing quality information for its readers. A quality portal design facilitates access to information and allows readers to quickly and easily find out about the latest developments in the agricultural industry.
If you need to create a website, feel free to contact us via the form or send us an email.
For more of our designs, visit our portfolio, and for interesting design articles, visit our blog.