Graphic Design Studio :: Guide for successful collaboration
If you are preparing to approach a graphic design studio for the first time and you don't know what questions to ask, how to prepare and what you can expect from the process – this article is for you.
In our previous blog on graphic design, we have already touched on this topic, but here we will talk about it in a little more detail.
What is a graphic design studio?
We often hear the terms: graphic design, print studio and marketing agency being confused. Many people when they hear "graphic design studio" think that it is also a printing studio or a marketing agency. Although these three fields are related and often overlap, they are different professions that require different skills and expertise.
A graphic design studio focuses on the development of visual solutions, a printing studio on the production of tangible, physical materials, and a marketing agency on advertising and selling goods or services. Understanding the differences and choosing the right type of business for the project is key when looking for a partner to help you with design, printing or marketing.
Graphic design studio
Graphic design studio is a company that provides graphic design services to its clients. Services can include everything from the creation of a visual identity, web design, print material design as well as packaging design, vehicle painting, etc.
You can learn more about this on our blog about types of graphic design.
A graphic design studio usually contains a team of designers who work together to create creative solutions that meet the specific needs of the client.
Although graphic design studios offer numerous services, types of design and styles, we often find that the studios specialize in only one specific style or service, as well as a focus on the specific industry within which it will offer its solutions.
For example, some studios may focus on the IT industry where they can create solutions for web design, mobile applications, motion graphics design and more. Another studio may focus on a certain style, for example minimalism. Such a studio can focus on transferring that style to logos, websites, printed materials and other types of graphic design.
Print studio
Print studio is a company that offers printing services. This can include, for example, the printing of business cards, flyers, posters, as well as the vehicle wrapping and window shop prints.
Confusion lies between graphic design studios and printing studios in the fact that many print studios also offer graphic design as part of their services. Most print companies will have designers in their team who will do simple design solutions such as the design of business cards, flyers, brochures or t-shirt designs as well as preparation for printing.
What makes the difference is specialization. While a graphic design studio specializes exclusively in design, a print shop specializes in printing. Design is an additional service, not a primary activity. While printers can handle smaller design projects, for larger projects it's better to turn to a graphic design studio or marketing agency.
Marketing agency
A marketing agency is a company that provides marketing services to its clients. These services may include advertising, public relations, social media management, and more.
Like graphic design studios, marketing agencies typically have a team of designers who work together to create marketing materials for clients. The goal of most marketing agencies is to offer the most comprehensive service possible to their clients. Therefore, in addition to marketing services, they often offer graphic design services. In addition to graphic designers their teams can inlude professional photographers, audio and video experts, and many others. This of course depends on the size of the agency, as well as their specialization.
Marketing agencies can also offer additional services such as market research and media planning. Graphic design studios usually do not offer these services, but on bigger projects they collaborate with experts in these fields.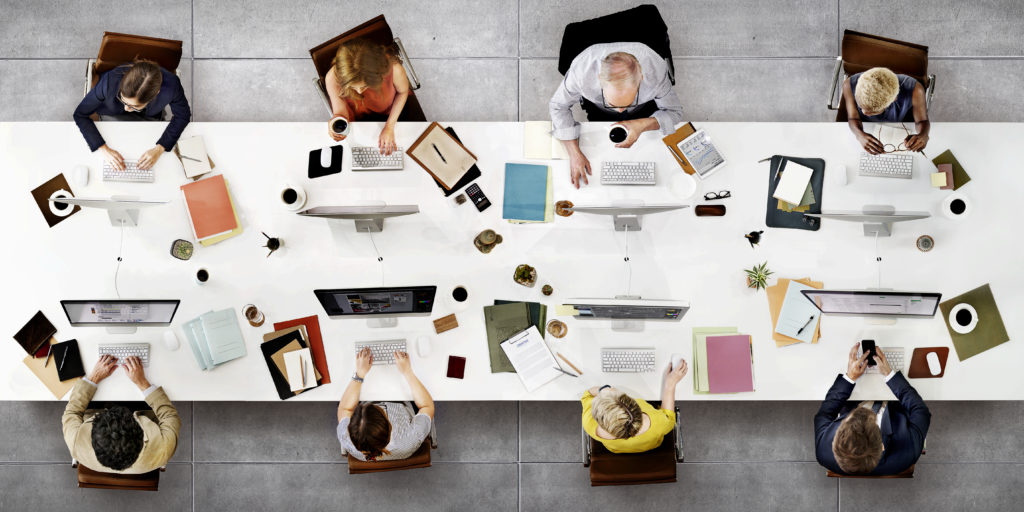 So why choose a graphic design studio?
The graphic design studio offers a team of experienced and specialized designers who are focused exclusively on creating creative and original solutions. This means they have a deep understanding of design principles and techniques.
If you want a high-quality and unique design, which is adapted to your wishes and needs – the best choice is a graphic design studio. Since the design studio specializes exclusively in design, the designers approach each task responsibly and professionally to complete it as quickly and efficiently as possible, from the concept to the final product.
The difference between a freelance graphic designer and a graphic design studio?
When choosing a graphic designer for a project, you have two options: a freelance graphic designer or a graphic design studio.
Freelancers (in this case graphic design freelancers) are individuals who work independently. They are not employed by a graphic design studio or similar companies. Because of this they have more control over the projects they take on and over the time schedule in which they have to complete these projects. This allows them to be more flexible with prices and services. Also, freelancers often specialize in a certain field or a specific design style. However, freelancers may not have the same amount of support or experience as a team of designers working in a studio. Also, sometimes they don't have enough resources that a graphic design studio or marketing agency offers.
On the other hand, a graphic design studio is a company that employs graphic designers. Typically, a graphic design company consists of two or more designers each specializing in a different style or a type of graphic design. In this way, the design studio offers a wider range of services and styles to its clients than freelance artists.
Also, the environment in which designers work provides a structured and organized approach to design and projects and encourages collaboration between each other as well as with clients. Collaboration between designers encourages greater creativity, more solutions and thus a greater variety of options for clients. While this approach is better for some projects, it also means that there won't be much flexibility in pricing and timelines.
Ultimately, the decision between a freelance graphic designer and a graphic design studio will depend on your specific needs and desires. If you value flexibility and personalized attention, a freelancer might be the best option. If you want a team of experienced designers and a more organized process, a graphic design studio might be the way to go.
Step by step to successful cooperation
How to approach the design studio? What questions to ask? Do you need to send some materials? What does the whole process look like?
If you are considering working with a graphic design studio, you may have asked yourself some of these questions. Therefore, it is important to do your research and prepare in advance to ensure a successful and productive partnership.
Here are a few tips to help you get started:
Goal
Before you approach the studio, take the time to clearly define the goals and objectives of your project. What do you want to achieve with your design and what specific actions or outcomes do you want to see as a result? This can include things like increasing company recognition, increasing sales, or improving customer engagement. When you have a clear goal, it will be easier to convey to designers what you need and they will be able to create solutions that will achieve that goal.
First contact
When contacting the studio, provide as much information as possible about your project, including your target audience and any specific design requirements or preferences. This will help the studio understand your project and provide you with the best possible solutions.
After providing all the basic information, also specify what kind of design you want. Do you have certain colors that should be used in the design? What style do you want: modern, elegant, playful or perhaps corporate? Be prepared to provide any materials or information the studio may need to get started. This can include things like a book of standards, reference images or previous design work. Feel free to attach photos or sketches of examples of designs or colors you like. You can also create a Pinterest board and share the link.
Providing this information in advance will help the studio understand the project and create a design that is consistent with the vision and goals of the project. Additionally, you may want to provide examples of designs you don't like, as this can also help the studio understand your design preferences and adjust their solutions accordingly.
If you don't know what to ask and all this is a bit too much for you, don't worry, a simple query like: "We need a visual identity for the company. Can you help us?" is also more than fine. Then an authorized person from the agency will contact you and together with you will go through all the questions step by step in order to get all the information they need and to reach an agreement.

10 questions that a graphic design studio might ask a client when they first contact them:
Basic information: name of the company or product for which the design is being made, location (where the company operates or the product will be marketed), company activity, etc.
Can you explain the project and its goal?
Who is your target audience?
Do you have any special design requirements or preferences we should be aware of?
Can you provide us with materials or information that will help us better understand the project?
Can you provide examples or references of designs that you like or that are similar to what you are looking for?
Do you have any specific branding guidelines that we should follow or incorporate into the design?
What are the key messages and values you want to convey through the design?
What is the purpose or application of the design and what are the special requirements or limitations we need to consider?
What is the expected timeline for the design project?
Asking these questions can help the studio understand your project, your goals and needs and will allow them to provide you with the best possible solutions.
Suggestions
Be open to feedback and study suggestions. A good design team will have a wealth of experience and expertise and may offer you new ideas that you haven't considered before. For example, they may suggest a different color palette, a new layout, or a different approach to a project. While it's important to communicate your goals and desires, it's also important to be open to the team's suggestions and let them challenge and push your thinking. This can lead to better design and more efficient results.
Process
Trust the design process. The design process can be complex and unpredictable, so it's important to trust that the studio knows what it's doing. While it's okay to give feedback and guidance, it's important to avoid micromanaging and let the team do their work. This means giving them the space and autonomy to explore different ideas and approaches and to take risks and try new things. It is also important to trust that the team will communicate with you throughout the process and keep you informed of their progress and any changes or challenges they may encounter.
Flexibility
Be flexible. Although you can plan everything in detail, set deadlines and organize, everything can still go "wrong". It is a creative process. Because of this, you may need to make changes or adjustments. For example, if you had a logo idea that the designers tell you is not feasible, but that the design can be changed in some ways so that it is as close as possible to your vision, be open because the idea might surprise you and be better than the original.
So be ready to adapt and be open to new ideas and approaches. This will help ensure that the final design is the best possible solution for your project. It is also important to be prepared to make compromises because the design process is often a balance between conflicting goals and constraints. As much as designers want to make your wishes come true, sometimes they are simply not possible.
Patience
Be patient. Design takes time, and a good design team will need to go through multiple rounds of revisions and feedback to create something truly special.
That's the first thing we warn future clients about – time. Although a deadline can be set for the first design proposals (say 7 working days), clients often forget a few things:
it takes time to study all the proposals and to choose one that corresponds to your wishes
it is often necessary to make modifications either in the design itself, or in individual design elements (different combinations of colors, typography, layout, etc.)
preparation for printing (if it is done) also requires a certain amount of time
So the deadline should always be extended just in case. It should also be emphasized that design is a creative job. Inspiration takes some time. And even if the agency has a large number of designers at its disposal, it is not necessary that all of them will provide the best possible solution within a certain period of time. Deadlines will sometimes be extended a bit if the team hasn't come up with the best solution. Of course, the client is always informed about this in time.
Sometimes good design has to wait and trust that the team is working hard to achieve the best possible results. It's also important to be patient and let them explore different ideas and approaches, as this can lead to better designs and more satisfying results.
COMMUNICATION
Don't forget about communication. If you have concerns or feedback at any point in the process, be sure to voice them. A design team can't fix what they don't know is broken, so it's important to communicate openly and honestly throughout the collaboration. This means providing constructive feedback and suggestions and being willing to listen to the team's ideas and concerns. It's also important to be clear and specific about what you like and don't like, and give specific examples and explanations whenever possible. This will help the team understand your needs and preferences and allow them to make the necessary adjustments and design improvements.
CONCLUSION
Working with a graphic design studio can be a useful and productive experience, but it is important to approach the collaboration in the right way. By understanding the process and preparing in advance, you can ensure that your collaboration with the studio will be successful and lead to satisfactory results. Remember to clearly state your goals and desires, provide detailed information and materials, be open to feedback and suggestions, trust the design process, be flexible and adaptable, be patient, and communicate openly and honestly.
For more articles on graphic design, visit our blog.
If you need any graphic design services, feel free to contact us via email or contact form.
Thank you for reading!
Related posts